After another disrupted year, I'm sure everyone is looking forward to summer and all the out of Auckland Bach owners finally being able to enjoy spending time at the bay.
The Committee have taken the decision to cancel the Annual BBQ scheduled for 2nd January 2022.
Given the latest Covid-19 rules under the "Red" traffic light system, gatherings are limited to 100 persons double vaccinated and carrying a "My Vaccine Pass". Our event attracts more than 400 people.
We are hopeful that 2023 will allow us to continue with this great event for Algies Bay residents and we look forward to hosting you at the 2023 New Year BBQ.
The Annual General Meeting is to be held on Saturday 9th April at the Betty Paxton Room, Mahurangi Community Centre, Snells Beach, starting at 10am.
Representatives from Auckland Council and the Rodney Local Board will be attending.
We encourage all residents to attend as it's an opportunity to hear about the past and future year's activities planned.
Refreshments will be provided at the conclusion of the AGM.
Ediquette on the Reserve, Ramp and Beach
To keep the Bay and beach a safe area for children and adults alike, we encourage everyone to be mindful when using these public spaces.
Be careful when using vehicles on the beach (eg: no hooning).
Patience on the boat ramp, especially during the busy times.
Ramp only to be used for launching/retrieving of boats. All other preparations to be done in parking zones away from ramp.
No parking in the bay beside the BBQ, opposite the toilets.
Keep your speed under 5 knots when motoring between the yellow 5kt buoy and shoreline.
Be sure to wash down your boats carefully especially if they are left in the water for some time to avoid invasive species, such as Mediterranean fan worm, being transported to other locations.
No swimming around the ramp where boats are being launched/retrieved.
No fish carcasses to be thrown overboard near or on the beach.
Dogs on Beach and Reserve over Summer
The following are the Dog Rules which can be found on the Auckland Council website.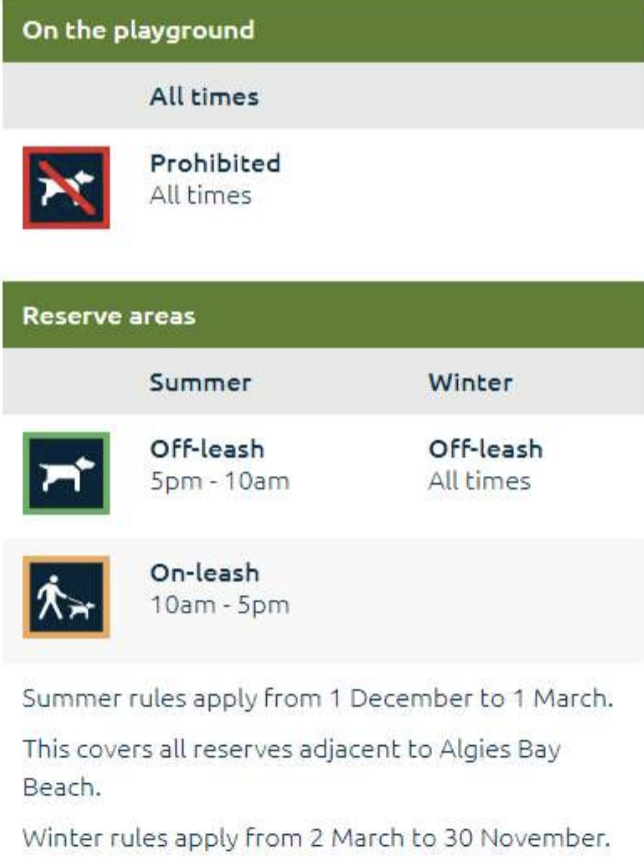 Invasive Weeds at Southern end of Bay
The invasive weed, Arudon Grass, (or elephant/bamboo grass) which had been identified at the Southern end of the Bay has now been removed by Council contractors. There will be an ongoing programme of cutting and spraying to ensure it doesn't return.
We wish everyone all the very best for the festive season. With the opening up of restrictions, we can once again relax and enjoy our wonderful Bay with our family and friends over summer.
Most of all take care on the roads and water by keeping yourselves and others safe.