Recreation and Activities Directory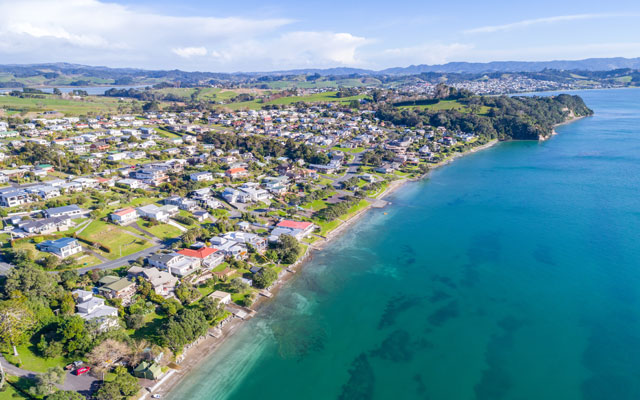 Algies Bay
Excellent safe swimming for 3 hours either side of the high tide with good sand up to the sea-walls on both sides of the main boat ramp.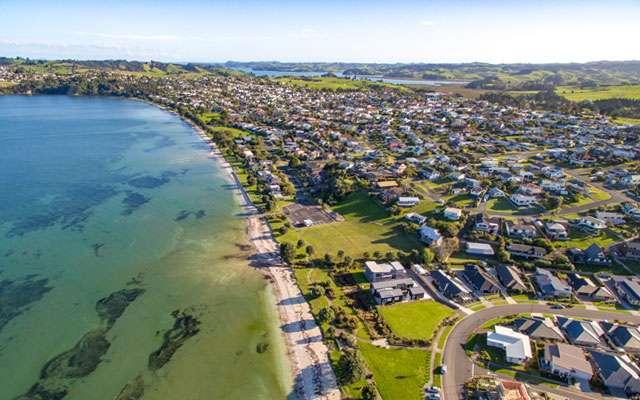 Snells Beach
Good safe swimming for 2 hours either side of the high tide, however it is very flat and the water goes our for some distant towards the low tide.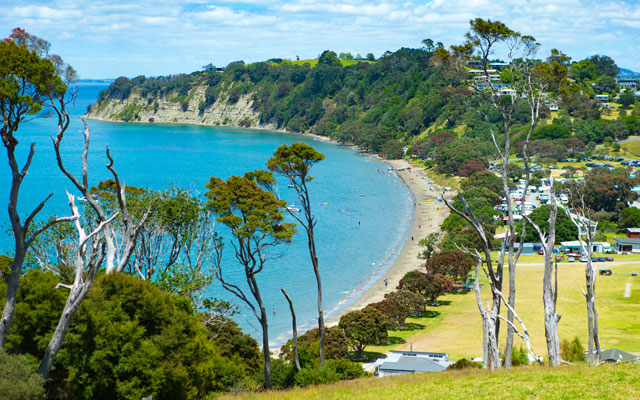 Martins Bay
Excellent safe swimming for all tides and being more exposed can get a small swell which creates ideal small waves for children with body boards.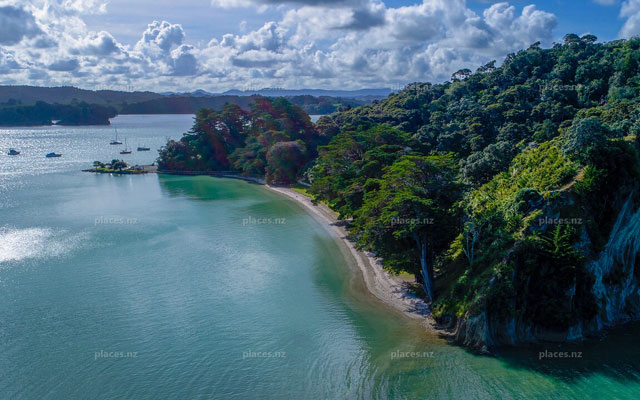 Scotts Landing
Excellent safe swimming for 3 hours either side of the high tide.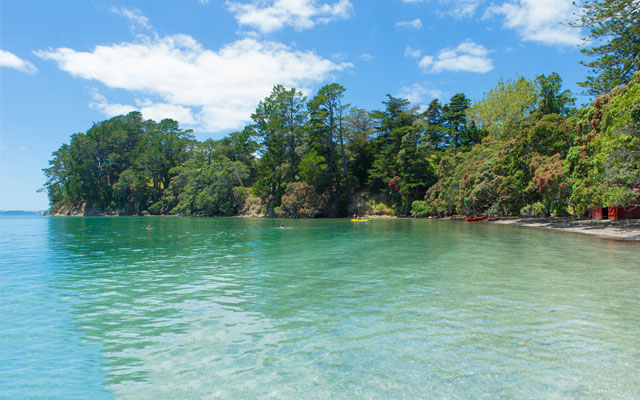 Scandretts Bay
Excellent safe swimming for all tides.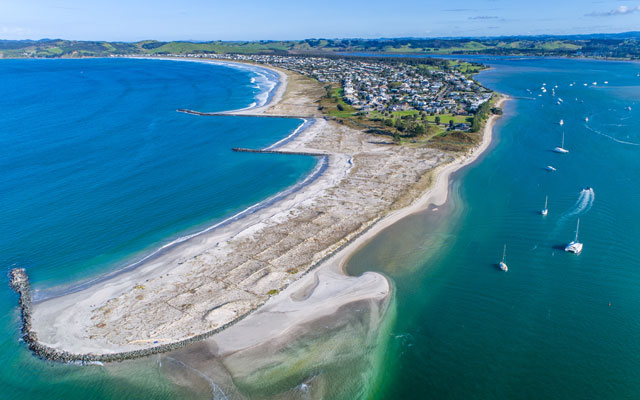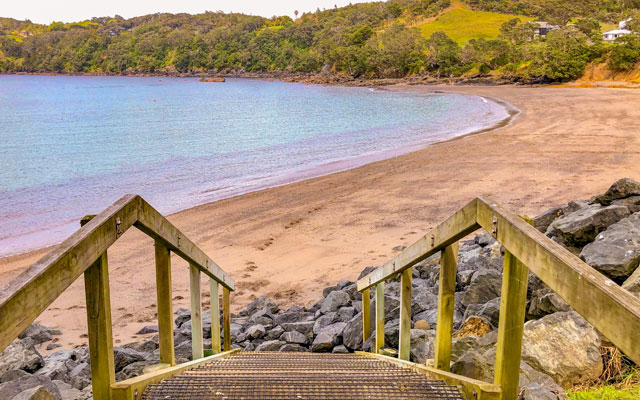 Matheson Bay - Leigh
Local fine stoney based beach. Great swimming.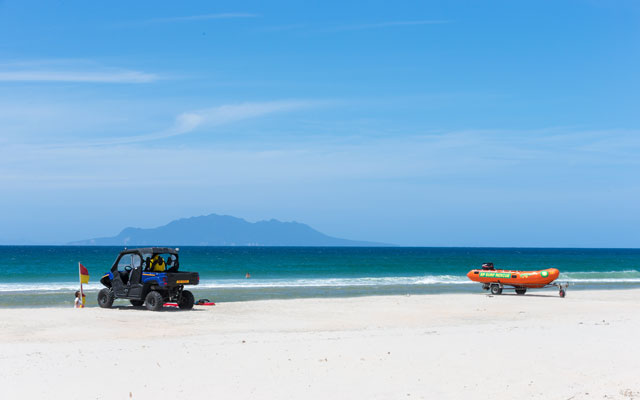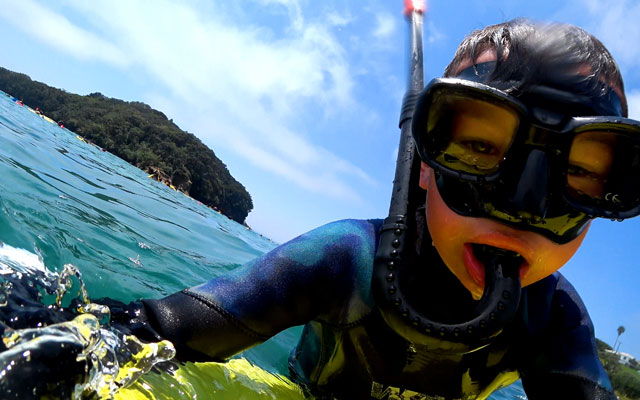 Fishing
Check out our local info.
Tawharanui
Set on a remote peninsula, Tawharanui Regional Park boasts some of the Auckland region's most beautiful white sand beaches, rolling pastures, shingled bays, native coastal forest and regenerating wetlands.
Pedestrian Access: 24 Hours
Summer Gate Times:
6:00am – 9:00pm
Winter Gate Times:
6:00am – 7:00pm
Wenderholm
The picturesque mouth of the Puhoi River, surrounded by forested headlands, is Wenderholm, the first and perhaps still the most beautiful Regional Park.  Wenderholm contains one of Aucklands best examples of mainland coastal forest.
Pedestrian Access: 24 Hours
Summer Gate Times:
6:00am – 9:00pm
Winter Gate Times:
6:00am – 7:00pm
Scandretts
Perched on the north east tip of the Mahurangi Peninsula, Scandrett Regional Park encompasses Mullet Point and includes regenerating coastal forest, rocky headlands that protrude into Kawau Bay, an attractive beach and a precinct of historic farm buildings.
Pedestrian Access: 24 Hours
Summer Gate Times:
6:00am – 9:00pm
Winter Gate Times:
6:00am – 7:00pm
Pakiri
A stunning piece of coastal land at Pakiri was purchased in late 2005. The 52 hectare piece of land includes 900 metres of sandy coastal foreshore and stands of inspiring mature coastal pohutukawa trees.
Pedestrian Access: 24 Hours
Gate Access: 24 Hours

Mahurangi
Mahurangi park protects three peninsulas at the mouth of the historic and picturesque Mahurangi Harbour. Mahurangi spans across the Puhoi River, north of Wenderholm, and along Te Muri Beach to Sullivans Bay and Mita Bay.
Pedestrian Access: 24 Hours
Summer Gate Times:
6:00am – 9:00pm
Winter Gate Times:
6:00am – 7:00pm
Donkeys living at Highfield Garden Reserve began Nov 1969, with the arrival of Tilly, purchased by owners of the land, Ted & Alison Roberts. The donkeys were to carry loads for their farm/gardening projects, as well they would be an interest for the visiting youngsters along with keeping the grass under control.    Donkeys are social animals and Tilly was soon followed Toby.  The donkey's names all begin with a T, acknowledging Ted whose inspiration they were.
When the land at Highfield was gifted to the people of NZ, Alison continued to look after the donkeys. After her death and with the blessing of the Roberts family our local community formed an Incorporated Society to take ownership of the donkeys and a new era began.
 The amalgamation of Rodney Council to Auckland City meant new systems had to be organised.  Negotiations began between the Council and the Society re the welfare and responsibilities of the donkeys, bearing in mind the gift of Highfield land along with aspirations of Ted and Alison that the donkeys would remain at Highfield   A Memorandum of Understanding between the Council and the Community was negotiated and signed on 23rd January 2014.   Local Board Member Steve Garner and Peter Couling Chairman of Highfield Donkey Incorporated Society both signed the historic document.
With Community support and help from Auckland Council, the donkeys at Highfield will continue to roam as in the dream of old.   The donkeys enjoy offerings of carrots, apples and silverbeet as treats.   The Community is encouraged to enjoy the Reserve and the donkeys, but are reminded that the donkeys are wild animals and must be respected and care must be taken particularly with small children.
Dinghy Racks
We have 32 dinghy racks available for hire, situated beside the Alexander Rd boat ramp.
The price is $25  per year for a top or bottom rack.
To hire or any inquiries please phone Angela Reiff
(027) 618 4079
Boating Rules
To keep the Bay and beach a safe area for children and adults, we encourage everyone to be mindful when using these public spaces.
Please be careful when using vehicles on the beach
Patience on the boat ramp, especially during the busy times.
Keep your speed under 5 knots until you have passed the yellow 5kt buoy.
No swimming around the ramp where boats are being launched.
Water Skiing
Ski lanes are for access only to the offshore 200 meter mark and skiers should not ski across or in the lane unless going out or coming in.
Ski boats should go out on starboard and return on starboard ie the lane operates anticlockwise from the beach.
Towing boats have right of way – so boats waiting to depart should give way to a boat coming in to drop off their skier .
Access lanes for water skiing are marked by orange and black posts on shore and/or orange and black buoys.
Use these access lanes when departing or approaching the beach if your vessel is travelling at more than 5 knots.
You must observe the 5 knot speed rule at all times unless towing.
All ski boat drivers must be over 15 years of age.
Any vessel towing a water-skier must have on board an observer in addition to the driver.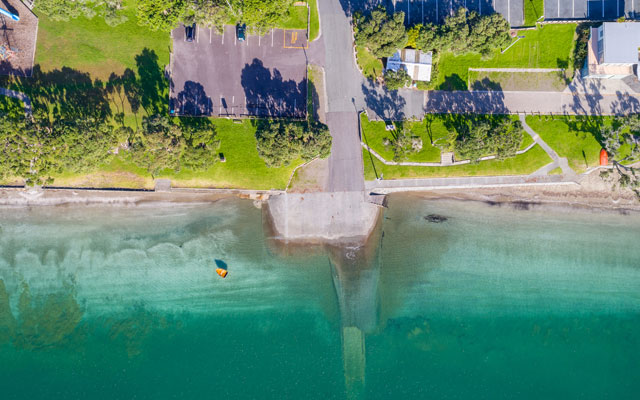 Algies Bay Boat Ramp
Gordon Craig Place, Algies Bay
Algies Bay Boat ramp is Suitable for launching with out a tractor about 3hrs either side of the tide. Otherwise a tractor is recommended.
For more info visit places.nz/7858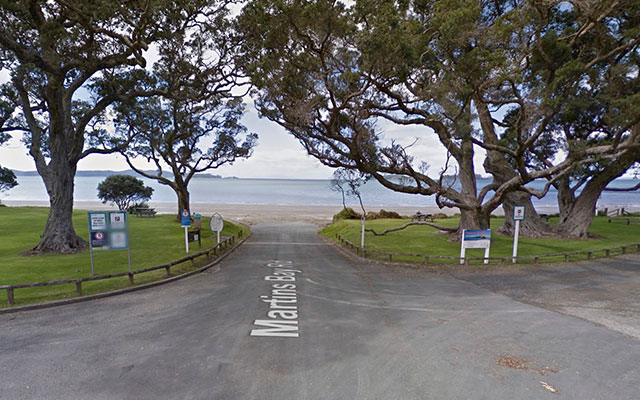 Martins Bay Boat Ramp
Martins Bay Road, Martins Bay
Martins Bay is a preferred boat launching spot in Mahurangi, as it has good access to great fishing spots, and it is a little more forgiving with the tides, This Boat Ramp has good parking for trailers, there is toilets and out door showers close by.
For more info visit places.nz/7826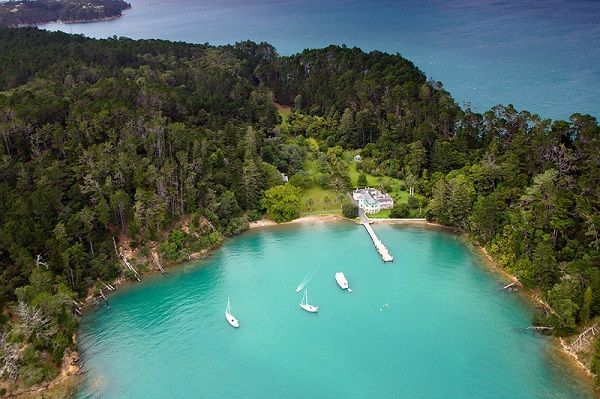 This beautiful Island, once owned by Sir George Grey (Governor Grey) is accessible by boat or water taxi from the Sandspit wharf.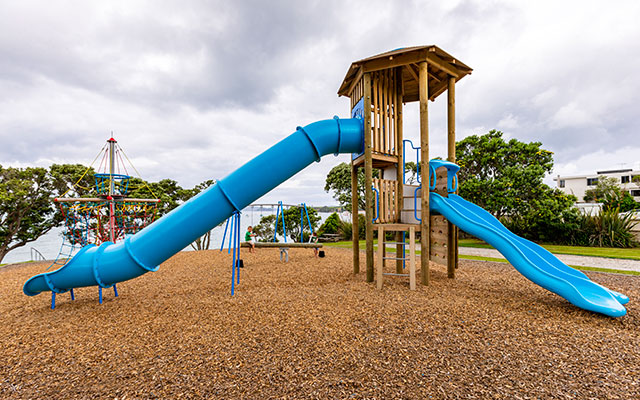 Algies Bay Playground
42 Alexander Road, Algies Bay
Algies bay playground is beachside, it consists of swings, slides, seesaw, climbing frames, pitonk, a grassy area to run around or play ball, the fall zone is bark. For more details visit 
places.nz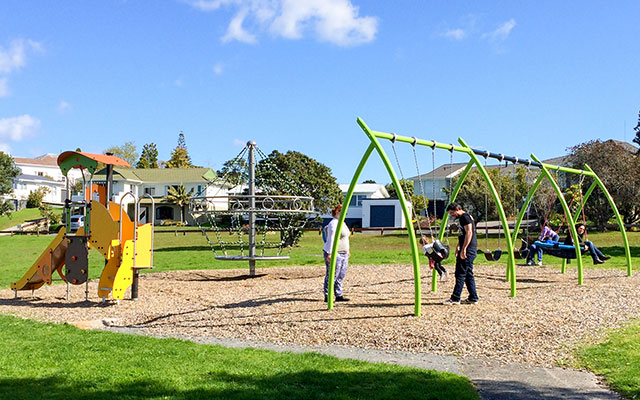 Snells Beach Playground
Opposite 6 Sunrise Boulevard, Snells Beach
Snells Beach Reserve Playground is the largest of 3 playgrounds at the beach, with climbing spinning ropes, standard swings, pod swings, slides, flying fox, and a basketball hoop. For more info visit 
places.nz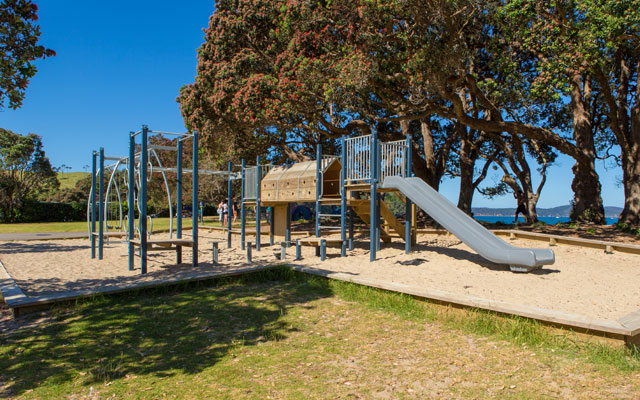 Martins Bay Playground
Martins Bay, mahurangi East.
Great beachside playground, toilets, open space,  and a basketball hoop. For more info of exact location visit 
places.nz
Jane Gifford – Boat Charter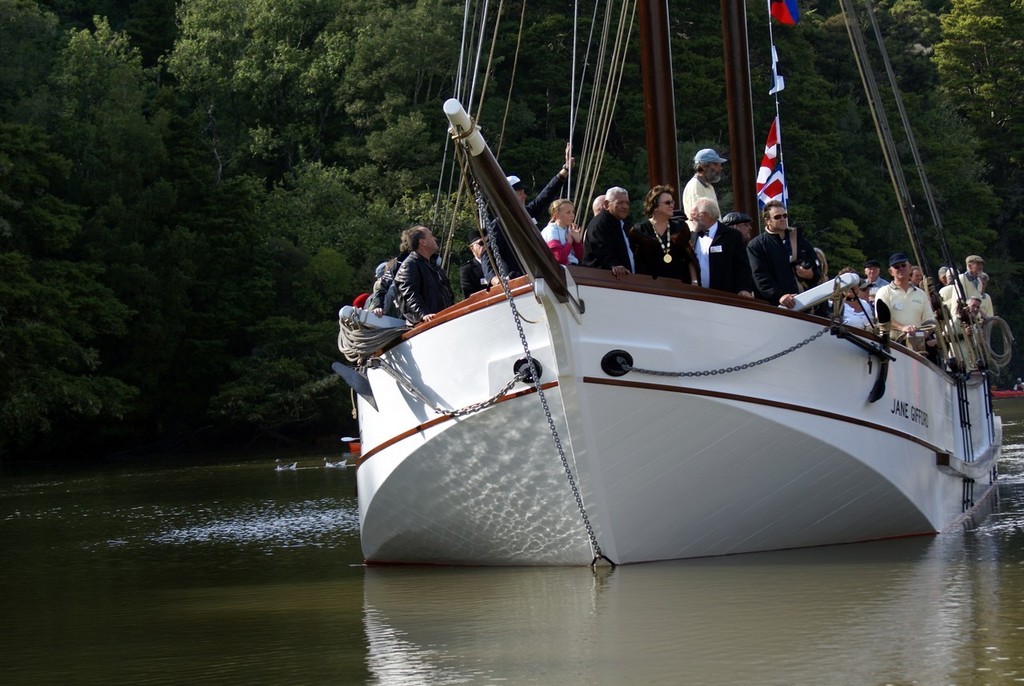 The Jane Gifford
Warkworth
Over 100 yr old sailing scow – Available for private charter, weddings, special events.
The Jane Gifford was built in 1908 by Davey Darroch, at Whangateau, initially to cart granite from mines in Coromandel to Auckland. She is 19.8 metres length on deck, has a 6 metre beam and a displacement of 60 tonnes. Based in Warkworth from 1921 to about 1938 she was used to cart shell from Miranda in the Firth of Thames to the cement works on the banks of the Mahurangi River, Warkworth. For a number of years she also carted road metal from the Public Works department Quarry at Motutara Island to Warkworth, for building roads in the area. She was also used to transport stock to and from Great Barrier Island and occasionally to Little Barrier Island.
She was moved to the Tamaki River in Auckland from about 1938 in search of work and in later years was owned by Subritsky Shipping. She was acquired by the Waiuku Museum Trust in 1980 as a powered barge and taken to Waiuku on the Manukau Harbour to be restored back to sail.
She was rebuilt and launched in about 1992 and operated for about seven years until she no longer passed survey because of rot in the old deck and hull. A new macrocarpa deck had been laid over the existing kauri deck and fresh water made its way through the old deck. Together with the lack of ventilation rot developed.
In 2001 a new Jane Gifford Trust bought the vessel from the Waiuku Museum Society and moved it to Okahu Bay. Sufficient money to repair the extensive damage could not be raised so restoration work stopped. Then in 2005 a number of Warkworth residents purchased the Jane Gifford to save the near derelict vessel from 'extinction' and moved it on a house-moving trailer back to Warkworth.
Phone Dave (09) 425 5006 – (027) 484 9935